If you lack capital, credit history, or a steady income, starting a farm operation seems impossible.
Whether you're looking to purchase land, equipment or just seed and fertilizer, our young, beginning, small, and minority farmer loan program is designed to help you access credit and build a solid foundation of success in three simple steps.
Step 1. Access to Credit
Credit is one of your greatest challenges as a beginning farmer, that's why we offer loan programs with:
Low interest term and operating loans
Low interest Best Management Practice (BMP) Loans
FSA or other Government Agency Loan Guarantee Fee Reimbursement
Farmland Financing – Conservation easement
Step 2. Deepen Your Roots
When you lack the experiences that build your foundation, making connections with industry leaders and mentors will be crucial to your success. With over 100 years of serving rural communities, we have industry and commodity expertise to help you grow pretty much anything.
We also work closely with industry organizations and universities to help you network and keep up to date on research and trends.
Up and coming farmers in the Horizon region are eligible to receive funding and connections through our Farmers on the Rise award program. 
Step 3. Understand Your Farm Financials
You've already committed to the idea of wearing several hats as a farmer, now you need to build your skills to be good at wearing those hats. In addition to promoting and sponsoring local workshops and training across our territory, our AgBiz Masters program is a two-year interactive educational learning series that will help you master everything from strategic business planning to cash flow projection.
The AgBiz Masters Program Teaches You Skills Like:
Megatrends
Strategic Business Planning
Preparing for Your Lender
Balance Sheets
Income Statement
Cash Flow Projection
Farm Business Management
Growth and Transition Management
Communication
Leadership
Educational and Networking Opportunities
Learning sound business concepts has never been more important, especially for today's young and beginning farmers. AgBiz Masters is an interactive learning series designed specifically for young and beginning farmers interested in honing their business and financial management skills. It is a two-year series where participants enroll in one year of the program at a time. Learn more about the program here.
We recently launched a Facebook group for like-minded young, beginning, small, veteran, and minority farmers, in addition to industry partners in the Horizon region to collaborate and share ideas and success stories. Join the Young, Beginning, Small Farmers of the MidAtlantic Region.
Helping the Next Generation, No Matter What
You are a steward of the land. Whether it's livestock or grain, we support farms both large and small, including those that:
Sell locally
Grow organically
Provide food for urban communities
Practice sustainable farming methods.  
It's your farm. Grow it how you want to.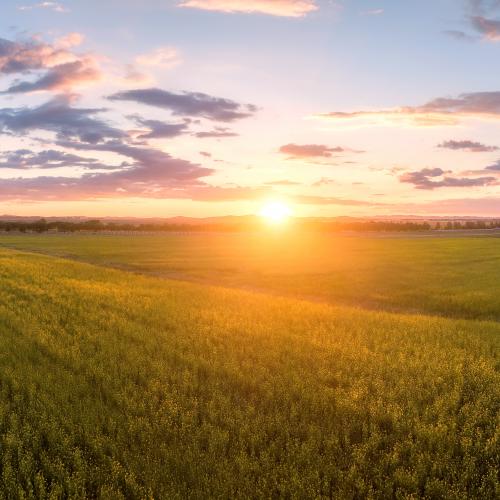 "I was posting on Instagram and I started receiving messages from local wedding vendors about the potential to host weddings."
Kelly Barb Prancing Deer Farm
Ready to get started?
Get the financing you need at a pace that works for you. Reach out to one of our Farm Credit experts today.