| Published: June 17, 2020
New Farm Credit Office in Mount Joy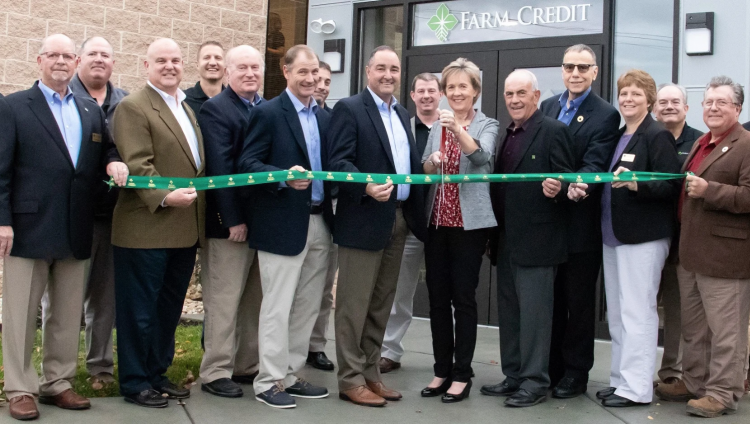 Horizon Farm Credit hosted an open house and ribbon cutting ceremony at their new office in Mount Joy, Pennsylvania on November 2. More than 350 customers and community members attended for tours of the office space, light refreshments and fellowship.
"We were happy to see so many of our member-borrowers and industry leaders come together to help us celebrate our new building," says Darin Miller, regional lending manager for Horizon Farm Credit.
"Our team is excited about the numerous opportunities this new building will provide our customers and the community, as it is easily accessible to major roadways and provides adequate meeting space."
Farm Credit presented a check for $5,000 to Feeding Pennsylvania to go toward the Fill a Glass with Hope campaign. An additional $300 was raised during the open house for the campaign through donations from attendees as they enjoyed Pennsylvania Dairyman's Association milkshakes.
"On behalf of Feeding Pennsylvania's member food banks, we are so grateful for this generous donation to our Fill a Glass with Hope program, the nation's first statewide charitable fresh milk program," says Jane Clements-Smith, Executive Director, Feeding Pennsylvania.
"With the help of our great dairy farmers and generous donors like Horizon Farm Credit, Fill a Glass With Hope has distributed nearly 10 million servings of fresh milk to families in need since its inception in 2015."
The Lancaster County Chamber of Commerce participated in the ribbon cutting ceremony with Horizon Farm Credit board members and senior management.
"It's an honor for the Lancaster Chamber to be a part of this great celebration," says Josh Enders, Chamber Business Relations Director.
"We cannot thank Horizon Farm Credit enough for over 35 years of membership. With this new location, it shows Farm Credit's commitment and dedication to Lancaster County and the agriculture industry."
The office was purchased in November of 2017, and has since undergone tremendous renovations.
The building is a total of 25,000 square feet and is equipped with a community room, which is available for local organizations to use for off-site meetings. The office was officially open to the public on October 1.
Back to News