Farm Credit Partners with PA Dairymen's Association to Support Central Pennsylvania Food Bank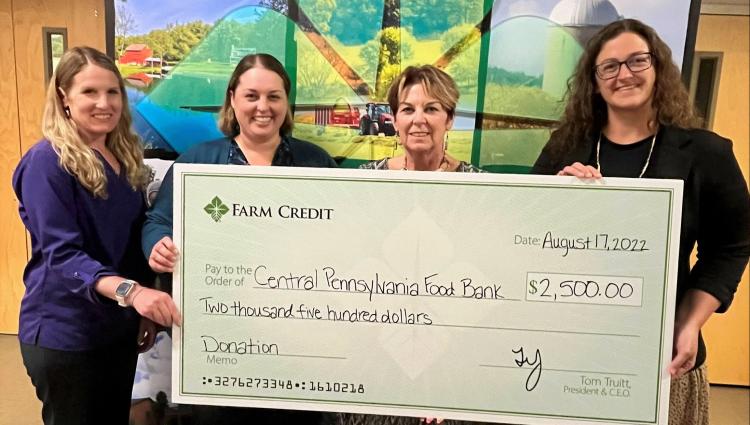 Horizon Farm Credit partnered with the Pennsylvania Dairymen's Association for a milkshake popup event on August 17 at their Headquarters office to raise money for the Central Pennsylvania Food Bank. Farm Credit matched the price of all milkshakes sold that day with a donation to the Central Pennsylvania Food Bank, totaling $2,500.
"As a cooperative, our Association is deeply connected to our local communities and customers," says Tom Truitt, CEO of Horizon Farm Credit. "We are proud to be able to assist the Central Pennsylvania Food Bank with a donation to continue fighting hunger and improving lives in our region."
The milkshake popup event was the first official welcome to Horizon Farm Credit's Headquarters office for industry partners and community members in the Mechanicsburg area. More than 75 visitors stopped by to purchase a milkshake in support of the Central Pennsylvania Food Bank and to network with Farm Credit staff. Members of Horizon Farm Credit's Executive Leadership team were in attendance, as well as Beth Hamilton, Director of Food Sourcing & Logistics for the Central Pennsylvania Food Bank, who accepted the check on behalf of the organization.
"The PA Dairymen's Association has been a trusted partner throughout the years for Farm Credit and for the state of Pennsylvania's dairy farmers," adds Truitt. "Horizon Farm Credit is happy to continue working with this statewide organization to support the dairy industry and education."
To learn more about Horizon Farm Credit, visit HorizonFC.com today or call 888.339.3334. Information about the Central Pennsylvania Food Bank can be found at centralpafoodbank.org. Learn about the PA Dairymen's Association at padairymens.com.
Back to News