Food Waste to Wanting More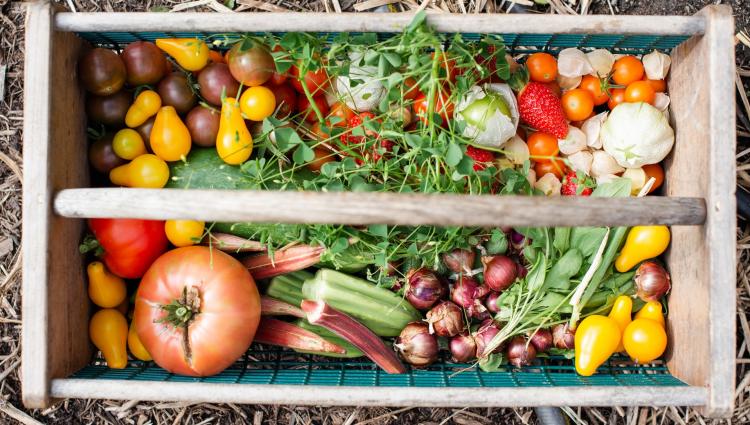 Important:
We recorded this prior to the COVID-19 pandemic. We've been working remotely for the past several weeks to be able to share them with you while you have a little more time at home. These uncertain times have altered the way we're all doing business right now, but that isn't keep us from doing whatever we can to support our membership and communities. Head to mafc.com/update for resources related to your cooperative and the pandemic. From all of your friends at MAFC, stay healthy and safe. Thank you.
Meag:
Welcome to the Farm Credit AgVocates podcast. My name is Meaghan Malinowski, content and digital marketing strategist at MidAtlantic and I'll be your host for this episode. I am super excited to share this conversation with you - It is one of my absolute favorite ag stories. We visited Katey and Kevin Evans back in 2017 to shoot a customer testimonial video at their new farm market. We got to see how everything is made and learn how Farm Credit was able to help them grow their operation. In three years they've continued to be a fan favorite here on the Eastern shore and have announced that Katey will be featured on the March 27th episode of ABC's Shark Tank. They're doing great work putting Bridgeville Delaware on the map and shining great light on what it means to be a farmer. So without further ado, here's my interview with Katey Evans of The Frozen Farmer in Bridgeville, Delaware.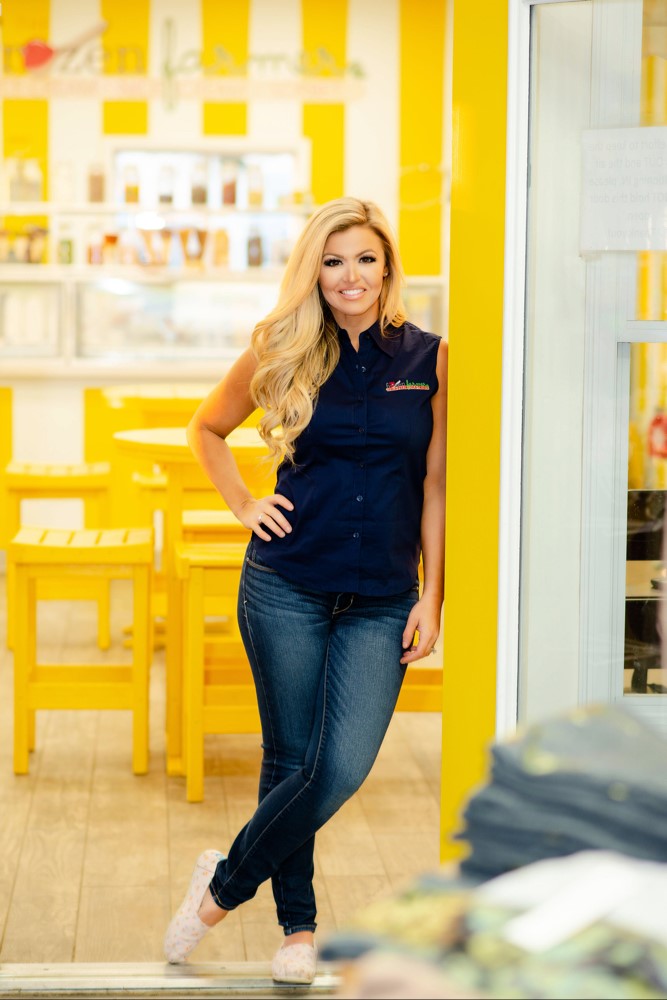 Could you start off and tell us a little bit about yourself and how frozen farmer came about?
Katey:
Sure. So my husband and I are, well, my husband's a third generation farmer and The Frozen Farmer came about because of our family farm business at Evan's Farm. We grow a ton of fresh produce to grocery chain and the more grocery chains that we picked up, the more food we saw going to waste. Not because it didn't taste good, but because it didn't look good; because grocery stores have high cosmetic standards for produce. And so you know, the more grocery customers we had, the more food we had going to waste because of the way it looks. And we thought, "Well, this food is perfectly edible even though it's not cosmetically beautiful." So we were looking for something to do with the food waste and we decided that it would be a perfect inclusion in sorbet. So we went away to ice cream school to learn how to make sorbet and then we learned how many more awesome flavors of ice cream with the fresh fruit that we had going to waste. And so that's how The Frozen Farmer came about.
Meag:
Can you tell us about ice cream school? I had no idea that was a thing.
Katey:
So we went away to the ice cream university in West Orange, New Jersey where we got taught by the world renowned Malcolm Stogo, who actually invented cookies and cream ice cream. He taught us all the ins and outs of ice cream making; the scientific part behind it, all about overrun and what that means. And you know, how to make a great tasting super premium ice cream. And so when we came back to the farm, we got in the kitchen and got really creative with our flavors. And put our own flair on things and that's where we went from there.
Meag:
That's so cool. I feel like it's probably more of a science, baking is definitely  a science. I feel like ice cream is probably similar to that.
Katey:
It is. And following an ice cream recipe is so specific that we actually weigh all of our ingredients. They're not measured in cups like you would in a traditional kitchen. Everything is weighed. Obviously, you know, the liquid ingredients and dry ingredients weigh differently. So a scale is our number one tool in the kitchen.
Meag:
Have you guys added anything into your typical planting seasons to make sure that you have enough produce for your flavors?
Katey:
We don't grow anything specifically for The Frozen Farmer and our ice cream. We have gotten more creative with our flavors through the years to include more of the things we already grow at Evans Farms. So the sweet corn summer flavor that is super creative and it's  a fun one to try. It basically tastes like a sweet cream, sweet buttercream ice cream because we cook the corn and then we cream it and basically churn it into our vanilla bean batch and it gives the vanilla batch a creamier, more buttery taste. And then we run the kernels and we run it through for that proper crunch. So we definitely try to think outside of the box and using more of the other varieties of fruits and vegetables that we already grow on the farm. But as far as growing anything specifically for The Frozen Farmer, we've not gotten to that stage yet.
Meag:
Your patrons are probably getting a lot of a lot of flavors and things that they've probably never had before.
Katey:
Yeah, we like to get really creative with flavors and even the traditional ones. You know, blueberry instead of just blueberries, we do a blueberry strudel. Or raspberries, we do a raspberry chocolate chip. We do lots of different creative things.
Meag:
Most of the farmers that I come in contact with are generational farmers. So I think it's neat that you've got a third generation farm happening.
What kinds of changes have you guys seen from one generation to the next?
Katey:
Well, my husband actually inherited the family farm before he and I started dating. His Mom passed away from cancer and his father passed away in 2005. He was actually in the line of duty as a volunteer firefighter, so he inherited the family farm at the age of 27 which was a lot of responsibility at a super young age.
When he and I got together, I really tried to help him grow the grocery side of the business. One thing that I know has changed is that side of the business. Our grocery chains are becoming a lot more local friendly and their produce sections carry local fruits and vegetables fresh from the farm. We serve close to 80 grocery stores DSD, meaning direct store delivery, which means essentially the fruit and vegetables are picked at our farm that morning or in the wee hours of the morning and are delivered to the store within an hour later. So the sweet corn is actually arrives hot to the store. That's something that grocery teams didn't used to do.
I know Evan's Farms didn't grow fresh market fruits and vegetables for the grocery level before I got involved in the business and we grew that side together. They did large scale processing vegetables and, obviously grains, but the grocery side of the business has increased. And I think that that's consumer driven too. And it's a generational thing. I think consumers nowadays that are going to their local grocery store and pretty much demanding that the produce be local, which is a fantastic food movement.
Meag:
I don't come from an ag background, so meeting our farmers and meeting the people that we're serving at MidAtlantic puts everything in a perspective for me. When people bring up things GMOs or those other buzz words, "no antibiotics" or anything like that, I try to challenge them and ask, "are you thinking about it from the farmer side?" I think that's one thing that we've been lacking in the industry, is that level of education for consumers. And I think labels can be pretty misleading. But I love that our grocery chains are actually working with you guys and making the effort to make things more local friendly.
Katey:
Yeah. And it's becoming so much more important to people and consumers that they know where their food is coming from and who better to tell you than the farmer himself or herself. And for us, that goes a long way with our customers, and our grocery customers in specific: we serve a lot of customers in the city areas, Baltimore, Philadelphia, and they've come to know us as their farmers on a first name basis and feel like they have a relationship with the farmer that provides the fruit and vegetables for their grocery store. That's translated into the Frozen Farmer brand as well. Knowing that name and the person behind producing our food is so important to consumers nowadays. It builds trust and it  allows us as farmers to  put an end to all of the negative buzz words, rumors and stigma that surrounds farming practices in today's world. So it's a great connection all the way around.
Meag:
I noticed that you guys have a strong digital presence in in social media and so I was going to ask you a little bit more about that. You guys have a great presence and a lot of great engagement. And I think we're seeing more and more producers trend towards getting online and trying to start those conversations.
Can you tell us a little bit about your journey [with social media marketing] from starting and building it to what it is now?
Katey:
Well thank you very much. We work hard on our social media strategy and it's to connect our consumers with our farm and with us. And we field a lot of questions here at our farm store and at farmer's markets that we attend throughout Sussex County. So, we take the social media to address those. We also like to engage the public. I think that we found the posts that performed the best are those of us actually in the field working. And by in the field, I don't literally mean in the field but in the kitchen, in the market, hands on with the process. Consumer's want to know how that tomato got on their shelf or in store and social media has been a great way to tell the story behind the product directly. And so we use social media as an avenue to do that, as well as to make them feel a part of our operation; given the history of who we are, the generations before us were  and allow them to be part of the process of where we're going.
Meag:
So you're inviting them into your story. That's something that we've been talking about quite a bit for the last couple of years here in our marketing department is how are we able to tell the story about MidAtlantic but also helping the rest of rural America tell their stories. We have so many awesome rural communities here and I definitely think that social media is one of the best ways to do it. It encourages that connection and it builds trust and it creates almost a friendship. You don't think about having a friendship with a business, but I know that if I comment on one of your guys' photos, you guys are going to comment back. Or if somebody asks you a question, you guys are reliable and responsible and respectful to respond to those and want to make sure you keep people in the loop.
If you had to give any advice to someone who's looking to start on social media and start building that engagement and connection, where would you tell them to start?
Katey:
I would telling them to start at that personal level. People are driven away from businesses or companies that look to social media to sell a product or a service. We do less salesy pitches and more personal stories; Informational stories. We want to give our followers an experience that they can learn from. Whether it's sharing recipes of what we do with our ice cream, or what we do with our produce; whether it's sharing tidbits to fun facts from the farm. As long as you can give the customers an educational and personal experience, I think that that's the biggest thing on social media. Obviously to gain the sales and business is the end goal for any company if they're on social media, but you want to connect with your customers through that or otherwise they're not going to gain the followers that you're looking for.
Everybody is on social media to learn something or wants to explore a new part of the world that they don't already know about; otherwise we would all be flipping through ad after ad of meaningless information. I think that making that personal connection would be the biggest piece of advice that I would give for somebody and that goes for reviews, or feedback also. Private messages are a high priority for us and making sure we're addressing every private message that comes in, in a timely fashion. We do have an automated response set up but there are four or five people that have access to our social media accounts and so we're always cross checking one another and making sure that somebody's question has been answered. We want our customers to feel important on social media. Even if they contact us directly or privately, we want to make sure what they're requesting is answered or their concerned gets addressed, or the older gets taken. It's important not to let anything slip through the cracks when it comes to social media.
One thing that we've tried to do, is not spread ourselves too thin. We established the Facebook page and felt we had a good grasp on it. Then once we felt we could handle and manage our Facebook page, then we established Instagram. We're still not on Twitter. We're going to be spread a little bit too thin if we attempt to tackle Twitter as well. I know that there are other social media platforms out there that allow you to funnel all of them through one place, they all arrive in one organized inbox. Those are tools that we started with Facebook and Instagram, but right now, I don't think it's something that we're ready to do. But take baby steps if you need to, just make sure that whatever you do, you do it well.
Meag:
When you first start off, you get very focused on the numbers, on how many people liked this post, or how many followers do we actually have. Or even thinking, "oh no, we lost two followers. Why did they unfollow us?" And it takes so much focus off of the quality of content that you're putting out and the quality of the connection that you're building when you focus on things that don't  matter that much.
Katey:
That's an important thing to note too, is don't post just to post. You want to make sure that your post is well thought out, is meaningful, will create engagement. And know the impact on whoever is reading it, looking at it, and interacting with it. You don't want to post just to post because we've learned that that can actually work against you.
Meag:
It's very hard to be very active on each platform, but I find that the more that I use them personally, I learn different and better ways of using the platforms.
Can you tell us how you guys made that expansion into the grocery stores and if you're willing to, share some of that process?
Katey:
Sure. So, on the farm side of things is where we got our foot in the door with a grocery team, all of the grocery teams that we work with. And sometimes it comes from a lucky break. Literally, we had a major corporate buyer of an enormous chain in the United States, ring our front doorbell one day and my sister-in-law and I had the time available to sit down with him in our office. At that time they were looking for a local grower within the area. And other times it's a matter of, seeing these people out. I'm talking like every week, finding the right person at that team to speak with at the right time, when hearing they're in need of a local grower. And then when you start to sell to the stores, whether it's two or three or four or 50, it's important that you give them the same amount of time, attention, and make them as important as you did from day one.
We're actually on a first name basis with a lot of our grocery managers. Even in the off season, I always make sure I text back. Other grocery produce managers stop by the farm now because they got to know us so well. So it's about creating personal experience with your buyers as well, not just your regular customers, but your grocery buyers. For us that's really helped us go the extra mile. Some of the corporate heads of teams have become my personal friends throughout the year. We've worked with Giant Foods for close to a decade now and you know, they've become a second family to us. Harris Teeter, the buyers there, they stop in whenever they're in the area. We've gotten close to the people that we work with and giving them that time and attention and a close level of detail and customer service. If there's something that's not right with your product it's important to make it right. Everybody's going to have that one ear of corn or something like that every now and then. So it's making sure that they know that that's important to you as well to make it right.
Whether it's a lot of rain or whatever it may be. Some of them may have been breakers in the box or whatever, but crediting them back and making sure that you've given them a positive experience at the end of the day goes a long way. I feel that our customer service, our level of detail, and our quality through the years on the produce side has  gotten our foot in the door when it comes to the creamery side of the operation as well because then we're traveling through a chain from one category manager to another.
Meag:
It doesn't cost any money to build a good relationship with somebody. It takes the personal connection and making the effort. I think people are  craving that connection and it's, it's so important and even on those bigger levels too; you guys are literally stocking shelves at grocery stores around  in our area. I feel like that is not an easy feat, but it sounds like you guys have made quick work of it and I can see why people would want to work with you. You are focusing on all the right things and everything seems to come back to building that relationship. You guys have an amazing opportunity coming up soon. I know, I think it's already happened, but so you guys are going to be featured on an episode of shark tank coming up and that'll air March 27th, right?
Katey:
That's correct. Yes.
Meag:
I know that you can't tell us a whole lot about it, so we don't want to spill any secrets.
But if you could tell us anything about the process [of getting on Shark Tank] or what your goals were with applying, I would love to hear about how that came about.
Katey:
Well, ever since we opened our doors to The Frozen Farmer in 2015, our customers had been telling us, "You've got to take this product to Shark Tank because its' unique concept of using the misfit ugly fruit that you're not able to sell it to the grocery chain in your end product and really it creates a value added product." And so of course, being from such a small town, I mean I'm a farmer's wife, so I didn't think that there was a shot in the world of me actually landing on Shark Tank. Let alone getting an investor's attention. But year after year after year of hearing, take it to Shark Tank, finally last year I said, "Oh, what the heck, I'll give it a try."
We were at a point in our business at The Frozen Former where we need a little bit more money if we wanted to see our product grow on more grocery shelves throughout the nation. Started small with Giant Foods and they gave us 11 stores to try to supply our first year with them. And then by the end of the first year we found out, okay, well we can take on probably about 15 stores total. We were comfortable with our capacity to produce for 15 stores and then year three, challenged ourselves a little bit more. And we said, well, we'll try to take on 30 this year and we hand pack every single pint on the grocery shelf. And so we tested our limits that way. And by year three, we ended up with 58 stores with Giant. We ended up renting a freezer trailer here on the farm while we built up the supply to distribute to the stores, and so that we can have some extra frozen stores on farm. We bought another ice cream batch freezer. We bought a depositor that allowed us to pack the pint more efficiently. And giant by this time was saying, okay, well we'd to see you sit on the shelf of all 164 stores throughout the nation, with every store in the chain. Then I said, okay, in order for us to grow to that level, we're going to need a lot more money because the container order alone for 164 stores was, you know, more than we had in the bank at the time. And I said, what can we do? I mean, we were at this, at this pivotal point in business. We needed to grow. We had the business. We had the demand, but not the money.
And I said, we need to figure out how we can ramp up business. Whether it's an investment or through exposure, we need to get to this next level and we need a breakthrough somehow, some way. And it came about again, Shark Tank, Shark Tank, Shark Tank. Actually, I had reached out to Bethany Frankel - I've followed the Skinnygirl brand forever and have been a huge fan of Bethany when she was on Real Housewives and with the Skinnygirl brand. I think what she's done with that is phenomenal. And had gotten brought up in our Giant meeting, "oh, I could see you guys as being the next Skinnygirl. There's so much you could do with ugly fruit, from fruit bars to jam, everything under the sun, you could do with ugly fruit. And so the whole ugly strawberry concept was born and I reached out to Bethany and said, "Hey, can you send us a video saying something about our partnership with Giant because I wanted to share it with our Giant buyers."
I thought it would be exciting for that and instead of saying, congrats on your Giant partnership, she came back and she said, you guys need to apply for Shark Tank. And I said, okay, this must be my sign. So, the casting process was actually happening at the time. The timing was great and I felt all the stars aligned for us. I filled out the application online and took it to New York City with me where I stood in line with 600 other entrepreneurs. I got in line 4:00 AM, freezing cold in New York city. And somehow I have made it through the casting process and now our episode. So it was a really exciting year for us. Just the opportunity to pitch a product in and of itself has been such an incredible honor.
Meag:
You guys have been working so hard on it and it's such a unique and great concept. So that's amazing. I love it, that Bethany Frankel reached out to you. And at that point you have to do it.
Katey:
Yeah, exactly. And so, well, with the help of MidAtlantic Farm Credit, we actually were able to receive the funds to purchase our container order for Giant. And we're probably sitting on the shelf of every Giant Food store in the nation. And that's something that we've done with MidAtlantic Farm Credit and The Frozen Farmer that's not anything to do with Shark Tank whatsoever. We've done that on our own proudly and are so thankful for our partnership with MidAtlantic Farm Credit, for being that support system for us and allowing us to grow that way.
Meag:
Where can our listeners find you and learn more, or perhaps even purchase, some of The Frozen Farmers' products?
Katey:
Sure. So our website is www.thefrozenfarmer.com and I'm excited to say that we will be able to provide ice cream online very soon. That's our next phase. We're actually going to be launching e-commerce online. So follow along. We'll provide updates when all of that has taken place. We have all kinds of events and festivals and specials that we post all the time and we're also doing ice cream cake. I would   encourage you to join us on Facebook follow along. There's all kinds of fun things that we post about there. And Instagram, in addition to the #frozenfarmer.
Meag:
I was looking at your events calendar and it looks like you guys have something almost all year long to offer for the family. Is that right?
Katey:
We do. So we actually are open 12 months a year including through the winter, when we do cut back to about four days a week. But our Easter Bunny Sunday events are coming up. We have the Easter bunny coming out every year for the Sunday's leading up to Easter. We do ice cream sundaes for the kids and then it's a free meet and greet with the Easter bunny. You can get your kid's picture taken, you can take their picture for free. And then we have our u-pick strawberry patch that opens in July. We have our ice cream festival in October, then we have our fall festival. So there's always, always something so follow along.
That was one thing that's, that's been very important to us is giving back to our community and giving them a place to feel home here on the farm too.
Meag:
Do you guys work with any particular community groups and organizations?
Katey:
We support a handful throughout the year. We actually, our car show in July, we'll be benefitting the Moore's, the registration for the car shows, those proceeds are going directly to the Moore's this year. But we support the FFA group. With our fall festival, the 4H club, we do as much as we can for the community.
Meag:
What do you advocate for in agriculture?
Katey:
I think my biggest thing that I advocate for an agriculture is to be mindful of where your food comes from and where it's going to as well. Farmers in our nation are under substantial pressure to increase our production capacity as our population grows. At the same time the population of American farmers is rapidly declining. And so year after year we're faced with a lot more pressure to increase production capacity. And I think what we should focus on, as well is being mindful of where our food goes. If we can reduce food waste, I think we might take the pressure off of our own back and consumers can contribute to that as well. When you're mindful of food waste, the pressure to increase production capacity becomes a little bit less. And for us The Frozen Farmer is about more than a business. It's about a food movement and being mindful of where that happens.
Please enter a valid password to access this page:
Wrong password. Try again!
Back to News