| Published: November 08, 2021
Keep it Real and Let it Grow with Ryan Clouse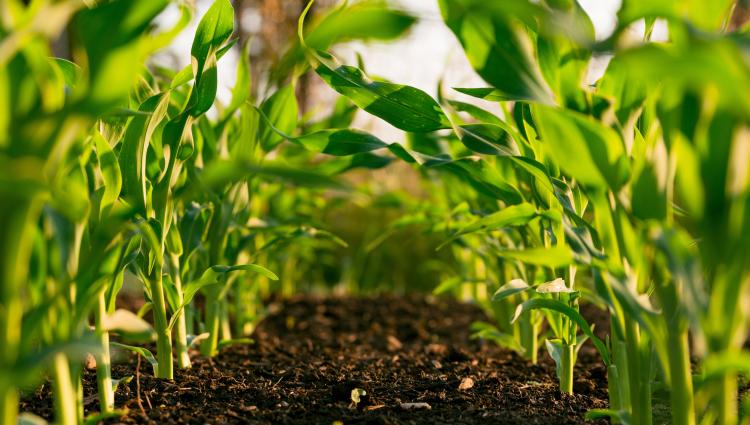 LISTEN TO Ryan's EPISODE HERE OR FIND US ON YOUR FAVORITE PODCAST LISTENING APP!
Summary
On this episode, Meaghan Webster interviews Horizon Farm Credit Loan Officer, Ryan Clouse. Ryan has been supporting our customers for over 22 years, but his background in ag runs deeper and started at their family's Christmas tree farm, Clouse's Pine Hill Farm. Ryan gives us the scoop on why real Christmas trees are a great choice for holiday décor and tried and true methods to keeping your Christmas tree looking good and lasting long into the winter season after you bring it home. This episode is the final episode for 2021 and we look forward to agvocating with our listeners again when we re-launch in early 2022.
Meaghan Webster:
Welcome back to the Farm Credit AgVocates Podcast. I'm your host Meaghan Webster, Content & Digital Marketing Strategist at Horizon Farm Credit.
Before we jump into today's interview, I want to bring you all up to speed on our plans for the podcast going into 2022 and beyond. Today's episode will be the last one of 2021. Since May of 2020 we've been sharing at least two episodes a month, which is both fun and exhausting! We want to make sure we're providing the content you want to hear, when you want to hear it, so we're going to take a break to re-center and plan some new content for 2022.
So what does this mean? Glad you asked! You'll want to stay subscribed to this channel to make sure you continue to get all of the new episodes when we re-launch in early 2022. Our name will stay the same but you may see some new cover art, you'll definitely see some new topics and guests, and new episodes will drop on Wednesdays rather than Mondays. Don't forget – you can sign up for email alerts about the podcast at mafc.com/podcast, and if you have a suggestion for a guest or a topic, email us at podcast@mafc.com. That's it for now – thank you so much for being a listener and we can't wait to agvocate with you in the New Year.
Now back to our regularly scheduled programming!
Have you noticed that the holiday season seems to get earlier and earlier each year? Even though you can start the overwhelming process of shopping for gifts earlier, one thing that seems to stay consistent (thankfully!) is when we start to look for our perfect Christmas tree. I think this is my favorite part of decorating for the holiday season. Michael and I rearrange the living room and make way for the tree. We get out the ornaments and set the scene before we head out to our local markets in search of the perfect tree. Then we bring the tree home, pour ourselves a glass or two of eggnog and get to work.
I'm excited for our interview today because I'm hoping our guest can give us some practical tips and tricks to make the most of our beloved Christmas tree this year! Today's guest is one of our very own, Ryan Clouse! Ryan is a loan officer in our Winchester, VA office and has been with Farm Credit for over 20 years. Although well versed in Ag, Ryan's expertise with trees was grown at home on the family farm. Ryan's family's Christmas Tree Farm, Clouse's Pine Hill Farm, has been making the holidays magical for over 40 years. Thanks for joining me today Ryan!
Can you tell our audience a little bit about yourself, your role with Farm Credit and what your background in Ag is?
RYAN'S ROOTS IN AG
Ryan Clouse:
My role here at Farm Credit has been as a loan officer in the valley region, serving the Martinsburg, Winchester and Woodstock offices over the years. I service the rural home and part-time Ag communities and deal some with the secondary market responses over the year. I have been with Farm Credit for over 20 years.
Meaghan Webster:
Obviously, with work, you have a really solid background in Ag, but can you tell us a little bit about your family's farming business?
Ryan Clouse:
I was born and raised in the Winchester area. My family had cattle, hogs and corn for a while, until we finally settled on the Christmas tree industry. There was a growing need for Christmas trees in the area. We had some experience with the neighbors planting Christmas trees as an FFA project on the property and found that it worked pretty well for our lifestyle. We were always more plant based agriculture than livestock based.
Meaghan Webster:
How long have you been growing Christmas trees?
Ryan Clouse:
Clouse's Pine Hill Farm started in 1977, so it's been in existence for close to 45 years. My parents, Ron and Roberta Clouse started it. My brother, wife, kids, and I have been a part of it over the years, doing different components of the business.
Meaghan Webster:
Are your kids interested in continuing?
Ryan Clouse:
They help selling the Christmas trees and showing people around during that time of the year. They have involvement in other school activities and they'll be heading off to college pretty soon.  They like living on the farm and having access to it all. We certainly like the great outdoors, so having that free space has been huge for our family and also for our customers to enjoy that time.
Meaghan Webster:
I can imagine that it would be a very magical experience growing up on a Christmas tree farm, especially around the holidays. I also recognize that it's a business and needs to be managed.
What was it like growing up on a Christmas tree farm?
Ryan Clouse:
My involvement with the Christmas trees really focused on the shearing, mowing and then harvesting and selling of the trees. I was eight years old was when I first got involved in the shearing process. Tagging around with your parents and picking up on what they were doing is just something you do on farms. You get a better sense of what it takes to be involved when you're there side by side.
There's a lot involved in the trees, aside from shearing, mowing and selling. It does take more time and effort than a lot of folks realize, which is why Christmas trees are not a huge growing industry. It's a pretty steady business overall in the United States and it is something that we see more demand for. At some point we will see the Christmas tree business pick up new farms as people enjoy that great outdoor experience.
Meaghan Webster:
I've heard that there's been some really neat innovations in plant breeding for different smells and shades of tress.
What have you noticed that has changed over the years when it comes to how the public picks out their Christmas trees? What kinds of trends do you see?
CHRISTMAS TREE INDUSTRY TRENDS
Ryan Clouse:
The fir species as a whole has gained a lot more popularity due to its strong needle holding capabilities and the scent. The innovation for them has really been more of the introducing varieties that grow well in your environment. There's a lot of specifics going on in the breeding process.
You need to know what plant grows well in what climate or if it grows well in sub-climates on an individual farm. We are finding individuals are trying to pick the best of the best, so we try to then grow those plants as future seed stock. That's what you're seeing as far as the overall trend in the industry.
There are some items out right now that are trying to improve the scent through some modifications on the genetic level, but that's going to be for the actual grower and will be a few years off. Christmas trees take 10 years to grow, so you have to find the best species and then take the better plants of that species for your environment. It's a process that is not going to happen overnight. It's not like soybean or corn where you can get those genetics in process in four or five years.
Meaghan Webster:
There's a much longer timeline here.
Why is it important to buy a real tree? I know there are lots of opinions around whether you have a fake or a real tree, but I really want to talk about why is it important to buy a real tree.
Ryan Clouse:
In agriculture, it's a lot about connecting where your food and fiber comes from. With the Christmas tree experience, you're putting folks in a wide open area where they can run and spend time with their family together.
When they take the tree home and set it up, there will be conversations about the experience. They will talk about picking it out, cutting it down and getting it home. It's a lot of the experience and that's what we find is important to everyone because it gets that emotional tie to that area.
KEEP IT REAL CAMPAIGN
Meaghan Webster:
I like the Keep It Real campaign that I came across before we talked. They talk about the local connection and knowing your farmer, but also the sustainability and the environmental benefits of the real tree.
Can you speak to any of those factors?
Ryan Clouse:
That's something just as with other types of agriculture, we are proponents of the sustainability. We want to see the soil and water be as healthy as possible. There is nothing better than a Christmas tree with the grass growing underneath, helping with that process. They provide an ecosystem for animals in the area, like the deer, rabbits, squirrels, and insects. It's something that we overall want to focus on.
When you can see the environment in its natural state, you're getting a sense of what it takes to make that happen. Seeing that goes back to that emotional tie.  It's something that they have and they want to continue that tradition of helping out a local, family farm. Our farm has had folks coming for 20 years. They brought their kids and are now coming back with their grandkids. It's neat to see the generations of the family coming out to enjoy that environment.
Meaghan Webster:
I was excited for this interview for a couple reasons. Picking out my tree each year is probably one of my favorite things that we do every Christmas. The first year, we didn't have a truck to get it home, so I had to fit it in the trunk of my Ford Taurus. My now husband and I were trying to fit the tree into my trunk, without it falling out the entire way home was one of my favorite memories.
What tips do you have for us to pick out a solid, healthy tree that's going to last long through the season? What should we look for in that perfect tree?
PICKING THE PERFECT TREE & MAKING IT LAST
Ryan Clouse:
The color of the tree is going to give a good indication of the health of that plant. Whether you're picking it from a choose-and-cut or a precut operation, you can tell if it's a good, strong tree from the healthy green color. Sometimes there's a blueish tint depending on the variety, but that's the first thing that you want to look at.
Then you can check the needle holding, by bending the limbs to see if it bends and springs back. That's a good sign that the tree is properly hydrated. Making sure that it has ample water to hold in the stand is the key to any tree's success. You really need a stand that holds bout a gallon worth of water. Some of the larger trees will go through two - three quarts of water a day as they're acclimating to the warmth of the house.
Meaghan Webster:
That makes a lot of sense to me, making sure that they're well hydrated and that color looks good. I know when I look for mine, I try to look for one that's pretty full.
Once we've picked that perfect tree and we're ready to take it home, what's the best way to keep it alive and looking good all season long?
Ryan Clouse:
The absolute number one key to keeping that tree looking the best all season long is the water. In our house, I'm the designated tree waterer and every morning when I get up, I check the water.
The first week or so, trees will have an insatiable appetite for water. You need to make sure that you're checking the water because if you don't have adequate water in there, the trunk will form a sap layer and it will not take up any more water.
Keeping it out of the direct sunlight and keeping it in a cooler part of the house, not directly by a wood stove, furnace, or a vent is the best. Bigger trees are generally going to hold more water and have more resistance, but smaller trees don't have as much moisture, so they dry out quicker.
Meaghan Webster:
Having a good spot where it's going to stay a little bit cooler out of the sun and give it lots of water.
Is there anything that we definitely shouldn't do? Sometimes they sell the packages of nutrients that you can put in with the water. Do they actually make a difference or is that something we could probably skip on?
Ryan Clouse:
Good old H2O is the best thing for it. My daughter did a project for a science fair and we tried some things out and we did not see a big difference. If you use aspirin or some of those extra nutrient packets, they may help, but not any more than using water and making sure that they're maintained.
The only thing that I've seen that has had a huge difference is putting ice in the water. I sold a 15 foot Douglas fir tree to a local barber shop. Every time I checked on it there were no dry branches or needles on the ground. I figured that it had to be because of the ice water. He's still having great success with that method.
Meaghan Webster:
Wow, I'm going to have to try that this year. I haven't heard of that one.
I think there are a lot of reasons that people choose not to keep it real or go the real option. Besides being traumatized by Chevy Chase's experiences in Christmas Vacation, the most popular complaint I have heard is the concern about bringing bugs into the house with the tree.
Is this a real fear with Christmas trees or is that a myth?
Ryan Clouse:
There are insects in the trees. It's their habitat, so that's just part of it. There are beneficial insects in the environment. Praying Mantis and spiders are present in the areas. When we harvest the tree, we shake them out. We try to get all the old needles out and anything else that's in there.
We do pull out what we can see, but when you're talking about an eight foot tree that's really thick, it's hard to pull every single non-needle or non-branch item out of there. We're not going to say it's never happened, but that's part of the Christmas tree experience. Those experiences are what you're going to talk about over the holiday dinners.
Meaghan Webster:
I'm not a big spider fan. I'm not sure if I'd rather have the squirrel from Christmas Vacation or if I want spiders. I think they both could be equally traumatizing.
After the holiday season is over, how do you recommend getting rid of a real tree? Is there one recycling option that's better than others?
GETTING RID OF YOUR TREE AFTER THE HOLIDAYS
Ryan Clouse:
The important thing is for it not to go into the landfill. If you chip it up or let it degrade on its own, it has a positive benefit to the environment. We make sure that what we take out of the ground and what we use in growing, we put it back as quickly as possible. That's something that with the Christmas tree itself, if you were to leave it on your own, it's going to break down.
It's just going to take a little bit longer. You can put the tree in a neighbor's farm, or keep it in your backyard till the summertime. You can put peanut butter or popcorn on that tree for the birds and other wildlife to enjoy.
Meaghan Webster:
I love that option. This has been super helpful. I really appreciate all of your tips and tricks. I'm excited to try that ice water trick. I'm definitely going to measure and see how that turns out.
In closing out this episode, I was thinking we could do a fun holiday edition of our "this or that" game. What do you think?
Ryan Clouse:
Sure. Go for it.
"THIS OR THAT"
Meaghan Webster:
I'm going to give you two options and I want you to pick your favorite or what you think is the best without any explanation. Let's go ahead and get started.
For the Christmas tree, colored lights or white lights?
Ryan Clouse:
White.
Meaghan Webster:
Awesome, me too.
For Christmas tree ornaments, do you do color themed ornaments or ones that you collect each year?
Ryan Clouse:
Ones we collect each year.
Meaghan Webster:
We do a combination of both.
For the yard, do you go with big, fun, blow up decorations or some of the classics, like the manger scene or the deer in the spotlights?
Ryan Clouse:
Neither, because we're too busy making memories for our customers.
Meaghan Webster:
That's a good answer.
Christmas cookies or pie?
Ryan Clouse:
Cookies.
Meaghan Webster:
Good choice and I agree.
Last but not least, gift bags or wrapping paper?
Ryan Clouse:
Wrapping paper.
Meaghan Webster:
Yes, 100%. You have to enjoy ripping the wrapping paper off. It's just not the same with a bag.
Ryan Clouse:
You got it.
Meaghan Webster:
Thanks so much for your time today. This has been really helpful and a lot of fun. We do one sign off question with each of our guests and I want to give you the opportunity for this as well.
WHAT DO YOU ADVOCATE FOR IN AGRICULTURE?
Ryan Clouse:
Agriculture is a lifestyle. It's something that keeps our community vibrant. We talk about the food, fiber, and keeping it local around here. It's important that you get to know your farmer, so they can tell their story about what it takes to make these products. It's important to remember that buying local sustains individual farms and many other support industries in that area as well.
Meaghan Webster:
Build those memories and buy local.
Thank you again for your time, Ryan. This has been awesome.
Thank you to everybody out there listening. If you enjoyed this episode, make sure you rate, review, subscribe, take a screenshot and share it with a friend. You can get all of the podcast notes for this episode and other episodes at mafc.com/podcast. If you'd like to help us plan for 2022, you can email us at podcast@mafc.com. You can send us any topics or guest suggestions that you'd like us to cover into the New Year.
Thanks again for listening. We hope you have of a happy and safe holiday season. We'll see you in 2022.
Back to News