Is a land mortgage the same as a home mortgage?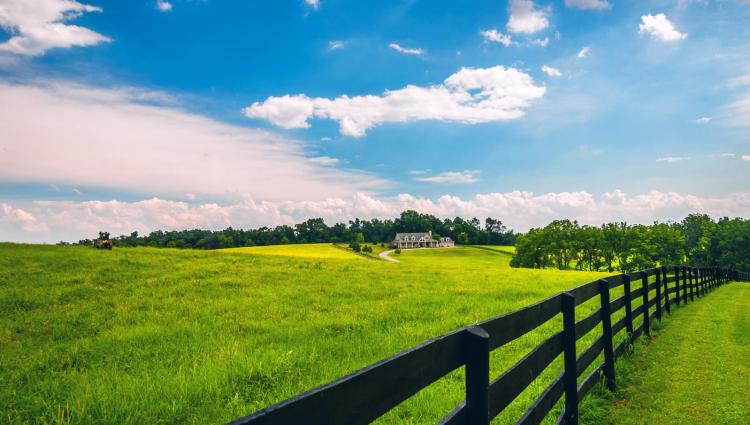 *This article was originally published on 1/3/2021 and updated as of 7/6/2023.
The process of buying land and building a house can be confusing, especially if you've never done it before! We'll teach you the difference between land loans vs. mortgages, and we'll introduce you to the financing options available for buying land to build a house. If this is your first time purchasing land to build a home, make sure to check out our article about things you need to know before buying land to build a house.
Is a Land Loan the Same as a Mortgage for a House?
There are different ways to finance the property and the construction of your home, and your lender will be able to help you choose what fits best for your financial situation. But first, it's important to understand that a land loan is not the same as a home loan. While there are some similarities between the two, there are also some important differences.
Differences and Similarities Between Land Loans and Home Loans
Let's first start with the similarities between land loans and home mortgage loans.
BOTH LAND LOANS AND HOME LOANS:
Require a mortgage to be placed on the property.

Offer fixed interest rates.

Require an appraisal and a title company or attorney for settlement, depending on the state.

Have a similar purchase process in terms of either working with a realtor to find land and with the seller to negotiate price and sign a sales contract.
DIFFERENCES BETWEEN LAND AND HOME MORTGAGES:
Lenders require a larger down payment for land loans as opposed to traditional home mortgage loans. With home mortgages, downpayment requirements can vary based on the type of home loans. But, for a land loan, the down payment is typically a non-negotiable 20%.

Interest rates for land loans are typically higher than interest rates for home loans because land loans have a higher default rate.

The maximum length of a land loan is typically shorter than the maximum length of a home loan. For land loans, if there's no home on the land the loan term can extend to up to 20 years, depending on the loan amount. While home mortgages can go up to 30 years.

With land loans there's additional costs involved with preparing the land for building including site prep and percolation test.
Frequently Asked Questions About Land Loans
Now that we know the difference between home loans and loans for land purchase, let's dive into some frequently asked questions around land mortgages.
What are the typical down payment and loan terms for land loans?
The required down payment for land loans is usually 20% of the purchase price of the land. Conventional financing is more flexible and can require as little as 5% down.
Are land loans higher risk than home loans?
Yes. Land loans are a higher risk for the financial institution because there is typically no existing structure or home on the property. That's why loan terms are shorter and down payments are higher. When someone purchases land, they often already have an existing mortgage or rent payment. If financial difficulties were to occur, that person would be more likely to default on a land loan with no structure instead of their mortgage or rent – in fact, this is why most lenders don't finance bare land!
When I go to build my house on my land, can I use any of the current equity I've accrued towards the down payment and closing costs?
Yes!, If you got a land loan and didn't build your house right away, you are able to use the equity in the land towards down payment and closing costs when going to build your home. 
Once you apply for the construction loan, a new appraisal will be done that will assess a value on the land and the proposed new home based on your construction contract and plans. Farm Credit can lend up to 95%, depending on the program, of that newly assigned value. Since land purchases require 20% down, it is possible to not need any additional funds when going to build since the closing costs can be financed if there is enough equity.
Is it cheaper to buy land and build a home than to purchase a pre-existing home?
Sometimes. When building on land that is already owned, it can be less expensive than purchasing a pre-existing home. However, this will depend heavily on factors such as your local market, the cost of materials at the time, and the type of home you are building.  
Typically, when purchasing a home that is already built there will be less out of pocket expenses since you can purchase an existing home for 5% down, plus closing costs with only one settlement. When purchasing land and then building a home, there are usually two settlements, one for the land and one for the construction along with other expenses such as preparing the land for construction. 
If I'm buying land now, is it cheaper to also build my house now?
Sometimes. Typically, buying land now and building right away will be cheaper than waiting to build.  However, it depends on many factors like current interest rates, the cost of construction materials, and the cost of living expenses incurred while the house is being built. Also keep in mind that construction can take up to 12 months for the new home to be completed and be ready to move in. You will need to plan for where you will be living during the construction phase, especially if you plan on selling your current home to help fund the construction of your new dream home, since this will need to be done before the construction settlement.
Many builders advise that you consider the state of the economy when deciding when to build on your land. For instance, look at interest rate trends and construction material cost trends - like the price of wood. If there are high interest rates, which can be lowered with a refinance, any savings might be negated by a rising cost in construction materials. Our blog Can I Buy Land Now and Build Later? goes into a little more detail on this topic. 
Can I buy land and build a home with one loan?
Yes, you can buy land and build a home with one loan. This type of loan is typically referred to as a Construction to Permanent Loan (C2P).
To apply for a C2P loan with land purchase, you will need a completed construction contract, blueprints, and specifications before making your offer on the land purchase. By doing so, both the land purchase loan and the construction loan can occur at the same settlement. We understand there is a lot that goes into finalizing the construction documents with the builder, which is why most of the time people typically purchase the land and then do a construction loan. This helps to secure the lot and allows time to finalize details with the builder with much less of a time constraint. If you are in a situation where you have the builder documents ready to go and are just waiting for the right lot to come along, then C2P with land purchase may be a good fit for you!
What are my options with Horizon Farm Credit when building?
Here at Horizon Farm Credit, we have experts available to help find the best financing solution when building your dream home. We can help finance all types of homes such as stick built, modular, doublewide manufactured, and even Barndominiums, which are pole buildings that include living space and are becoming quite popular in rural areas. 
We can help pre-qualify you before you even talk to a builder so you know what monthly payment and amount out of pocket you can expect when selecting your home. We will be with you every step of the way through finalizing the contract and plans with the builder to ensure all costs are accounted for, to moving in and making your dream a reality.  We are happy to answer any questions you may have so please do not hesitate to contact your local office or loan officer!
Please enter a valid password to access this page:
Wrong password. Try again!
Back to News