| Published: August 03, 2023
Livestock Risk Protection for Cattle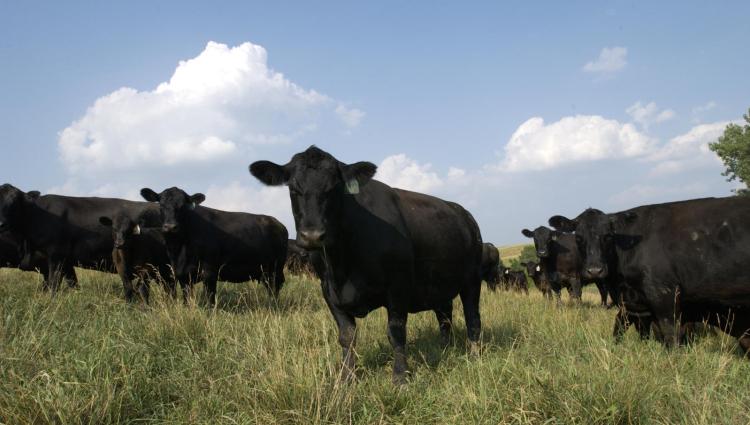 This article was updated on August 3, 2023.
What is Livestock Risk Protection (LRP) and why do I need it?
With the never-ending fluctuation and unpredictability of the market, Livestock Risk Protection (LRP) is something all cattle producers should consider. The primary purpose of LRP is to protect against the unexpected downward price movement in the marketplace by setting a base on any given date and type of cattle you wish to insure.
The producer should determine when their cattle will be marketed, target weight, and number of head they wish to insure. There are a variety of coverage level options ranging from 70 to 100 percent of the expected ending value. At the end of the selected insurance period, if the actual ending value is below the coverage price, you will be paid an indemnity for the difference in price.
How does livestock risk protection work?
LIVESTOCK RISK PROTECTION

Assume: Producer expects to market 100 head of 11cwt cattle and selects coverage of $170 per head.

Coverage

100 head x 11cwt x $170.00

$187,000

Actual Ending Value

100 head x 11cwt x $175.00

$192,500

Loss Payment

Assume 100% Ownership

$5,500
*This is for demonstration purposes only. This scenario is not based on an actual claim and should not be compared to an actual claim. Chart originally produced by Rain and Hail LLC*
It is important to remember that your local selling price has no impact on the LRP policy. LRP coverage uses prices from the CME Group that are announced almost daily.  As of 2020, LRP (Cattle) is now available in all states when the market is available. The best part is, there is no minimum amount of head that you can insure. No matter how big or small your operation is, your cattle can be covered. Keep in mind that the cattle you wish to insure do need to be owned by you and in your possession prior to signing an endorsement.
LRP HAS TWO TYPES OF COVERAGE FOR CATTLE AVAILABLE:
1. Feeder Cattle with ending weights under 600lbs or 600lbs-900lbs
and
2. Fed Cattle with ending weights between 1,000lbs-1,400lbs that will be marketed for slaughter near the end of the insurance period.
What is the difference between Livestock Risk Protection and Livestock Insurance?
LRP does not cover death, disease, or any other peril, whereas livestock insurance does. It is important that you keep an open communication with your agent if something of this nature should arise. If your policy does trigger a loss, there will be documentation that the agent and insurance company will require you to fill out and turn in to show proof of ownership, and sale or retention within the appropriate sale window of 60 calendar days from the closing date of your specific coverage endorsement.
How do I sign up for coverage?
You must buy an LRP through a crop insurance agent who has taken the extra training courses for livestock coverage. You can fill out an application at any time, however coverage will not attach until you sign a specific coverage endorsement. Timing on this policy is everything! Once the market closes in the afternoon, you have until the following morning to get the paperwork signed with the agent to attach coverage to your cattle. Like other crop insurance policies, this policy is subsidized by the federal government as long as you meet all the requirement guidelines.
The good news is our crop insurance agents are certified and read to help you sign up for livestock risk protection through our Crop Insurance program. Give us a call to speak with an agent or visit farmcreditcropinsurance.com to learn more. From crops to cattle, Farm Credit has you covered.
Please enter a valid password to access this page:
Wrong password. Try again!
Back to News