Farm Credit Announces Recipients of JumpStart Grant Funding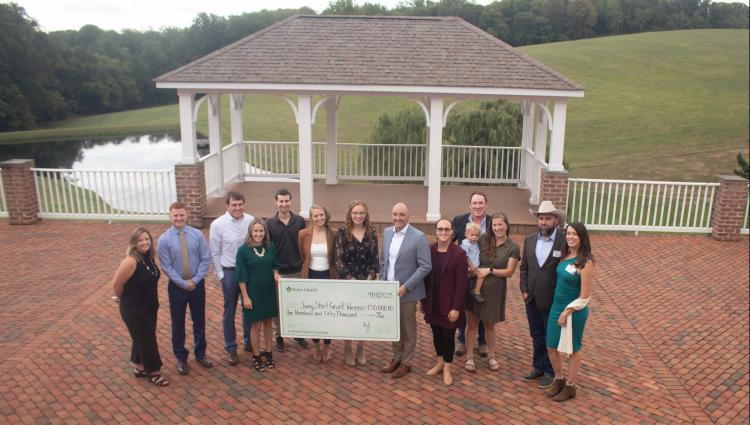 Farm Credit recently announced a $150,000 disbursement of grant funds to beginning farmers through JumpStart, the Association's competitive grant program for farmers in the start-up phase of business.  The following applicants were selected to receive $10,000 each to establish and grow their farms:
Paul & Laura Congleton from Woodbine, MD
Carlene Curtis from Parkton, MD
Eric & Christy Donnelly from Rocky Ridge, MD
Benjamin & Sarah Goldberg from Clarksville, MD
Jon Hartzler & Erin Luley from Pennsylvania Furnace, PA
Lulav Lieberman from Newark, DE
Matthew & Brittany Miller from York Haven, PA
John Orlowski from Knoxville, MD
Andrew Porter & Rebecca Robertson from Spring Mills, PA
Matthew & Jessica Schnupp from Harrisburg, PA
Richard Talbott from Gerrardstown, WV
Katelynn Troy from Parkton, MD
Timothy & Edna Yoder from Salisbury, PA
Titus & Anna Yoder from Salisbury, PA
Blake & Sarah Ziegler from Lebanon, PA
More than 100 applications were received for the 2023 JumpStart grant program, all of which were carefully evaluated by a diverse panel of agriculture professionals and industry experts. Those named above were selected on the merits of their submissions, which included an application, business plan, and completion of the Ag Biz Basics educational course.
"Beginning farmers are the future of our industry," said Tom Truitt, Chief Executive Officer of Horizon Farm Credit. "We are pleased to offer JumpStart grants as part of the Association's ongoing support of producers who are just starting out and establishing their operations," he says.  "The funding provided by this grant program goes a long way toward helping these new farmers pursue their dreams and realize long-term financial success."
JumpStart is an annual grant program for agriculturalists who are at least 18 years of age, have two years or less of farming experience or be planning to begin farming within the next two years, and reside in Horizon Farm Credit's territory and Washington, D.C.  The program is open to both full and part-time farmers and does not require applicants to be Farm Credit customers. Learn more about this program by visiting horizonfc.com/jumpstart.
Please enter a valid password to access this page:
Wrong password. Try again!
Back to News